Well done to the Teams that got promoted and to
Herbie's All Stars,
who is in the Senior Side for the first time.
Congratulations to the highest scoring Team,
The Fish Shack FFC,
'
Best On Ground
' for round 17,
who now joins
Bluth Lodge, Just Kreuzing, Apache Cats
and
Massa's Machines
on 2 BOGs.
With the Teams that have been in the Seniors Side the most,
Bombers Rule
is the clear leader from
Logan's Roys
, who has a nice break from the rest of the Teams.
Now, no Teams have been in the Senior Side for all the rounds.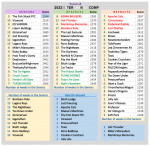 @Alex_26
The Hitout Sharks,
@Beg2Differ
Pay the Mark,
@Beijing_Sting
Year of the Liger,
@Bermi
BERMI BRUISERS,
@BigRuss
TheRustyFishHooks,
@blue dreamer
I'montheVossWagon,
@bomberboy
How Food's Gooty,
@Connoisseur
Connoisseur,
@Cookie2711
Cookies crunchers,
@Couch Coach
Couch Coach,
@Crowls
Bombers Rule,
@Darkie
The Darkness,
@Dazza
Dazza's Dragons,
@Deeman1
GV Vikings FC,
@Diabolical
Diabolical Rabble,
@doc ron
Rons Badboys,
@Dustman
Deejinators,
@FirstTimer
Nowhentoholdem,
@Foxy's Fe-Lions
Foxy's Fe-Lions,
@froffershanners
Massa's Machines,
@GrainFedBeef
FALCON Knights,
@Harmonic Nine
Membreys Memories,
@Herbie66
Herbie's All Stars,
@Hot Thunder
Hot Thunder,
@Ironhawk
Ironhawk,
@Jay Sea
Norfolk N Chance,
@jel
Jolly Jels,
@Juzzo
PopavaliumAndropov,
@kadog
CarnThePies,
@kennychao
Khaos,
@Keven
BuyLowSellHighmore,
@Krak
TURDBURGERS,
@Leroy
The Nightfoxes,
@Lgndhen23
legendhen,
@Loboda1963
Logans Roys,
@mike89
Mike's Marauders,
@nath_99
Nath's Bombers,
@OnTopBar
Have a Crack,
@Pesci001
Soft Pork,
@Peter56
The Try Agains,
@PressurePoint
PressurePoint,
@Presto
Presto,
@Professor
Professor,
@Rickwood
GimmeFuel,
@Ricky Bobby
Ricky Bobby,
@Slammer
Just Kreuzing,
@Snowman
1st Tracks,
@stephen
Bluth Lodge,
@Tails
TailsPower,
@Tex
Apache Cats,
@THCLT
FLYING HORSES,
@The Last Samurai
The Last Samurai,
@ThirdManUp
Guns'n'Rozees,
@Toothless Tigers
Toothless Tigers,
@toxic
Toxic,
@Trickee
ED SHERRIN,
@tso
Tso Down Under,
@Vicwood
Vicwood,
@wogitalia
The Fish Shack FFC,
@Woodsey
Feeling Horney,
@Zimmer
Led Zimmermen XV,
@Zim^zuM
Lolern Bulldogs,