Joined

3 Jul 2017
Messages

30,932
Likes

98,122
AFL Club

Port Adelaide
Score: 940
RD Rank: 60,050
Overall Rank: 14,782 (from 5,327)
Would have liked another 1000+ score but happy with the result considering B Smith, CNK and Boyd were all in the 17 and only Grant, Fifita (C), Hopgood and Katoa were the only players above 60. Trbojevic comes back into the 17 for Cleary, with Uto taking the spot previously held by Butcher as one of the playing reserves. Will persist with Boyd for another round but would not be against using a second boost next round or in RD5 to turn him into a S Walker, etc type.
Current trades:
Out: B Smith, E Butcher and S Turuva
In: W Egan, H Tabuai-Fidow and J Isaako
View attachment 53738
View attachment 53739
Starting the Roosters trio before their bye didn't go to plan and Tedesco for Walsh next round is under heavy consideration if he can back up his opener. Alternative to trading Turuva would be Williame to Cartwright leaving $160,000 odd in the bank as Isaako would not be selected.
Change of plans:
Out: CNK, B Smith, E Butcher
In: J Kiraz, W Egan and B Cartwright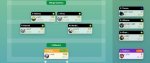 Joining the Kiraz train. Tedesco/Boyd and CTW rookies will be the players on the chopping block next round.