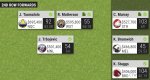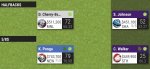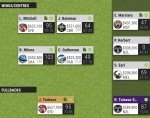 Team for this week is set. Brought in Gutho despite being underwhelming in recent weeks. Plays at bankwest during the day against an ordinary warriors outfit so can see Gutho putting together a decent score.
Almost last chance saloon for Cody Walker. He's been a shell of his former self after his horror origin debut. If he doesn't put together a respectable score I'll be more than happy to use my last trade to bring in Cleary or Munster for him.
Dropped back to 400 odd last week so hopefully make up the ground I lost this week. Really banking on PODS like DCE, Walker, McInnes and Pangai jnr to score big for me. Tempted to drop Jrbo for a high risk high reward player like Staggs who has a favourable match up against the titans this week. Depends how well I start tonight. Expecting Nikora and SJ to score extremely well tonight. Cowboys left hand edge is extremely weak and pretty inexperienced. SJ and Nikora should combine to wreak havoc against them.