I present the third installment in the much anticipated
PIT Averages series (
Durability v Higher Ceiling I
and
Durability v Higher Ceiling II
available here). For those who haven't heard the term before, PIT (or Points in Team) was first coined by SCS statistician Rowsus to highlight the importance of aggregates over average when choosing players in your side. Generally, my main takeaway from this analysis has been to pick only durable premium players (20 - 22 game players) in your starting side UNLESS they have a much higher ceiling than the 8th best option (eg: Def/Fwd 105+ or Mids 118+). You could make exceptions to the ceiling rule depending on discounts.
In last years' analysis, I suggested that a PIT108 for midfielders, PIT90-95 for defenders and PIT95 for forwards would be acceptable from your starters. Let's see how the 2018 data stacked up against those calls. As in the previous years, I've used a 70 average for mids and a 60 average for forwards & backs (to account for rookies covering their missed games). * denotes a missed game.
Mid only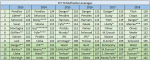 From 2017, only Danger, Titch and Oliver remained in the top 8 for 2018 (with Dusty sneaking in at 12th). Neale continued the trend of one of the names listed 9-12 the previous year, pushing into the top 8 for the next year (joining Libba 14, JPK 15, Treloar 16, and Sloane 17). Uncanny trend, can Dusty help it continue in 2019?
Although we want a 110+ avg from our starting mids, in recent history, a PIT108 has been enough (looking at the mids listed 8-12 in most years). However, last year, even a PIT105 would've been good enough for your 8th mid (did anyone expect to see Joel Selwood or Ward here?). There was some preseason concern in 2018 that Cogs would be a poor pick as he could get stuck in that 105-108 range and lose points against mids that go 110+. However, a PIT107 was definitely good enough from him as a starter in the end. I think a 108 avg @ 21-22 games is usually good enough for a starter mid.
Defenders

There was a big shuffle in the defence from 2017 to 2018 (as there usually is). Laird and Simpson were the only main success stories of defenders who remained as top 12 defenders from 2017 (with McGovern and Hurley just sneaking in). In the preseason, I suggested a PIT90-95 would be acceptable, but I think the defenders did quite well last year overall so a PIT95 would be what you're after in defence as a minimum. It will be very interesting to see the results of the defenders at the end of the season, especially those that take kick ins. The pass mark for defence could even be PIT100 with the rule changes but still a lot to play out.
Forwards
The forwards of 2018 all performed strongly last season with 9 players achieving a PIT95. A better effort than 2017, where only 4 reached PIT95. Interestingly enough, this season all the top 12 forwards from last year are still available in the forward line this season - I don't think that's ever happened before! I think accordingly, a PIT95 would still be the minimum acceptable score from the forwards this season given that all the forwards from last year are still available.
Also, Westhoff has been a long time favourite of the PIT averages. He's appeared in the top 12 fwds in 5 of the last 6 years, and in 2018 he finally topped the averages! You'd think he'd be a strong chance to be there again this season, more a question of where.
That sums up my thoughts on the tables. Special thanks to
@benderiffic
for requesting the updated analysis for 2018 - good to hear that people are finding this useful!
Last edited: