And that's a wrap on SC for another year!! (a year that will never be forgotten...)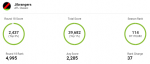 Round 18 Heroes:
Danger's second half
, Neale, Titch, Fyfe, Zerrett, Lloyd, Laird, Trac, Stewart, Dusty, Whitfield, Gawn and Grundy
Round 18 Villains
: Cripps, Z.Williams, Ridley, MACRAE
Round 18 Trades:
Doch to Daniel; Parker to Macrae (ouch.... cost me 40 odd pts...)
Comments:
Couldn't be happier with my final ranking of 114! I think mid way through the season I was hoping to scrape a top 1k ranking after the wheels starting falling off. But I kept chipping away, sticking to my guns and kept inching up the rankings throughout the second half of the season. I went up the rankings each round since Round 8 (when I was around 5k)! It's now my third season in a row finishing in the top 250!! (was something I never thought I'd be able to achieve given how much luck is involved in SC).
Slightly bitter usage of my final four trades over two weeks to bring in Wingard, C.Lyons (donut), C.Daniel and Macrae for 0 tons between them but my work in the middle of the season was enough for me to keeping pushing up the rankings over the final two rounds.
League wise, I was lucky enough to prevail in the prestigious SCS PL league, was blown away in the SCSBoTB GF but went down narrowly in my GFs in the SCSLG league and the Draft Gods of SC league (which was the pesky 10 person league that finished No.1 overall!!! - great effort to all involved!!).
Well done to the SCS members that finished very highly and also those involved in the highly ranked SCS Leagues (I counted 6 in the top 10 18 person leagues!).
Feel free to add some extra commentary as part of the end of season review. I'll update my post myself with some more reflections!
Starting Team
D:
Laird
, Sicily, Docherty, Roberton, Noble, BZT (McAsey, Brander)
M:
Neale
, JKelly,
Danger
, Bont,
Cripps
, Rowell, TGreen, MPickett (McInerney, TBrown, Starcevich)
R:
Grundy
, Naismith (
BWilliams
)
F:
Dusty
,
Trac
, Brayshaw,
DSmith
, DFort, Budarick (
Cavarra
, CTaylor)
*Bolded were held all year (noting I traded Bont out and in)
Final Team
D:
Lloyd
, Laird
, Stewart
, Ridley
, C.Daniel
, Z.Williams
(Ling, B.Williams)
M:
Neale
, Bontempelli
, Zerrett
, Dangerfield
, Macrae
, Fyfe
, Titch
, Cripps
(Rivers, Schoenberg, C.Lyons)
R:
Gawn
, Grundy
(Draper)
F:
Petracca
, Whitfield
, Greenwood
, Martin
, D.Smith
, Wingard
(Cavarra, Mosquito)
$25,300
Ranking History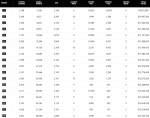 Trades History


Best Trades
Naismith to Gawn in Round 2 - This trade really set the tone for the restart season. Gawn had an easy draw and put out 6 consecutive scores above 140 from Round 2 (and I had Pittonet's 130 odd cover for Gawn in Round 3).
Gawn to NN to Gawn Boomerang between R12 - R15 - This was the main move that helped me push into the top 1k after stumbling in the middle part of the season. NN took the C duties in R13 and posted a 140s score instead of an 80 odd from Grundy which was the cherry on top.
Pickett to Zach Merrett in Round 12 - Merrett averaged 123 for me for 545k. Very important selection given I did not have Macrae or Oliver.
Lloyd IN before Round 9 for under 600k - it was the last time Lloyd was under 600k all season and he averaged 128 from that point onwards.
Roberton to Howe in Round 2 - this one was quite an important trade early and helped me initially bounce back after a poor start
Worst Trades
B.Smith to J.Martin in Round 15 bye - terrible terrible decision which cost me points and trades, and created a "musical chairs" effect in my F6 position (Wingard later filled the spot).
Brayshaw out for Viney in Round 2 - A wasted trade that also cost me points and didn't need to be done. I thought at the time that a different approach was needed for the unprecedented SC season. But the age old rule of "back your preseason research" held true and A.Brayshaw was one to have held. Viney made his 100k for me but was a bit of a nothing pick (the decision re the cancelled Ess/Dee games only made things worse).
Trading a fit JKelly to an injured Fyfe - purely an emotional rage trade following the hard to understand decision to punish those who had loaded up on Ess/Dees players. I knew I shouldn't have done it but my care factor for the season was lost around that time (but it did return after a longer period of normality!).
Sicily to Z.Williams - This one was a frustrating trade. Z.Williams missed a week and also only averaged 79 in my side.
Parker to Macrae in R18 - cost me 42 points in the end. Would've been nice not to have done this one!
Best Starting Selections
Petracca - Easily one of my best selections in SC. He dropped a 180 odd in the preseason and I knew I had to take the punt on him as the ceiling on his type of breakout player is too high. In the end, he exceeded all expectations and finished the season on a 117.5 average.
Laird - I wouldn't have known it for the first part of the season, but with an average of 121 from Round 10, Laird no doubt became a season defining starting selection.
Neale - It was only a last minute move to upgrade Oliver to Neale during Round 1 AFTER the announcement the season would be delayed, but boy, did having Neale from the start help make SC 2020 that much easier.
Worst Starting Selections
Roberton - had to be traded out straight away after dropping a 20 in Round 1. Does anyone even remember we picked him? I was foolishly super bullish on Roberton all preseason and even took him in the SCSUL keeper draft...
Fort - another that needed to be traded straight away.
Cripps - Started the season well but faded heavily after being an absolute lock for me. A terrible season for Cripps but I'm sure he'll be picked for me in 2021 at a lowish price
Last edited: