Joined

3 Jul 2017
Messages

12,782
Likes

34,405
AFL Club

Port Adelaide
Unfortunately I have not been able to provide my usual round reviews due to time constraints this season and prioritising other forums (captaincy, quartets,etc) and the quick turnarounds between rounds wasn't very helpful.
Starting squad:
D: R Laird, L Ryan, S Docherty, D Roberton, J Noble, B Zerk-Thatcher, (F McAsey, B Starcevich)
M: J Macrae, P Cripps, J Kelly, T Mitchell, P Dangerfield, D Hannebery, M Rowell, M Pickett, (T Green, J McInerney, C Budarick)
R: B Grundy, S Naismith, (B Williams)
F: C Petracca, T Lynch, A Brayshaw, D Smith, J Brander, C Taylor, (B Cavarra, M King)
Final team:
Season scores and rank: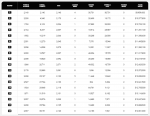 Trade history:
Best trades:
T Doedee at $294,400 in RD4
L Whitfield at $441,200 in RD6
T Stewart at $443,000 in RD10
O McInerney at $389,700 in RD11
Worst trades:
Trading J Kelly to C Rozee in RD3 (Kelly scored 1166 between RD4 to RD14 (Rozee was traded out at RD14) compared to 421 from Rozee and add on emergency scores from his missed games)
Trading out A Brayshaw in RD4 and keeping D Hannebery until RD6 (wish I had traded Hanners in RD4 instead). Brayshaw proceeded to average 106.14 for the remainder of the season.
Selecting E Yeo, B Long and M Walters
Best starting selections:
Luke Ryan, Christian Petracca and Rory Laird
Worst starting selections:
P Cripps (Did not particularly like Cripps before this season (moreso now) and would have preferred to start Oliver and Neale over Cripps and Mitchell)
T Lynch (Richmond- Traded after RD1)
D Hannebery (Could have had Greenwood instead who I was very keen on if I managed to free up $40,000 via selecting T Brown over T Green)
Very happy to have finished in the top 8000 considering the amount of points I have lost through silly/unfortunate trades (1000+).
My crackpot theory of avoiding Whitfield and Dusty as starting selections and going full value in the fwd line was proven correct but I was unable to effectively capitalise on the advantage and had trouble convincing others to follow suit.
Congratulations to SCS members that enjoyed their personal best seasons, registered their maiden league wins (cash or non cash) and especially
@lavenderbandit
for his deep run (if only Williams and Parker scored 40 more points
) and
@jarveg
for his weekly win and deep run.
Thanks to the other LG members for keeping everything running smoothly throughout the season and the likes of
@Professor
,
@Beg2Differ
and
@nicohighscore
for their constant updates and relevant news, competitions and ownership statistics respectively.
Make sure to stick around during the offseason for fantasy competitions varying from
NFL Sportsdeck (currently 2 rounds in)
EPL Sportsdeck (currently 2 rounds in)
Supercoach Racing (starts on the 3rd of October)
Supercoach Big Bash (season scheduled to begin early December)
Over the past few seasons I have enjoyed participating in the Non AFL comps more than AFL SC thanks to the astute and helpful members in their advice provided which helps eliminate most of the barriers for newcomers to the above sports thanks to their generosity.