I have been looking through the Rate My Team thread, and it seems that many of you have been tempted by a few mid priced players in your main team. Why not - mid pricers are much cheaper than those premium players everyone fills their team with, and often score just as well. But a lot of he time they don't - they are cheaper for a reason. How about creating a whole team entirely made up of these mid pricers then, how would that fare? That will be the aim of this competition - to find out.
Rules:
All players in your team must be priced between $200,000 and $450,000 (inclusive).
You must select at least one player from each of the 18 teams in the league and may not select more than two players from any team. See example below.
The usual $10,000,000 budget and 8/11/3/8 structure applies to your team. Any team found to have exceeded this cap amount once the season commences will have players removed, starting with the highest priced players until the team drops below this amount.
All entries to be sent to myself directly, rather than posting in this topic. If you want to make a change before the deadline, your latest entry will be used.
As mid-priced players are so tempting, I'll even allow you to have up to two separate entries, meaning you can select 60 mid priced players! The only rule is if you do enter two entries, each of your entries must have completely different players - if you select a player in one of your entries, they cannot be selected in your second.
Scoring:
Scoring will be similar to the Lock and Load competition run by @Beijing_Sting. Your best 16 scoring players will count each round, with the best score doubled as a captain score automatically - no need to set emergencies and captains each week.
The competition will run from Round 1 to Round 23 only. I'll post regular updates of how your team is going throughout the season. Scores will be cumulative throughout the season. The highest scorer at the end of the season wins the valuable* prize!
Prize:
I've mentioned this valuable* prize for the winner a few times now. You may notice I post on this site quite a lot, year round (probably too much). You may have also noticed I do not have a signature at the bottom of my posts. The winner of this competition will get to see a short one line message of their choice displayed in my signature from the end of this competition up until the end of February 2022. Six months of free advertising in my signature, which will be viewed thousands of times could be quite valuable. There are a few minor rules such as any message must comply with site rules, and must not be offensive (i.e. saying that Essendon is the greatest team of all time for example is highly offensive and would not be acceptable), but apart from that, pretty much anything goes.
What's more, it is expected that
everyone
who enters the competition will include this message into their signature for at least the duration of the AFL finals. I obviously cannot enforce this, it is entirely up to you whether you agree to do so or not, but it is hoped that if you do enter the competition you will agree to it, as I'm sure you would like for others to include your message if you happen to win. It's just a bit of fun, and it's only for four weeks for you (six months for me). If you want to keep the message there for longer than four weeks, that's up to you. Further details will be provided at the end of the competition.
Just to note, I will also be entering a team into the competition - if I happen to win, the same rules will apply - all other entrants (i.e. you) will be expected to include the winners message (my message) in their signature for four weeks. It's not likely I win, just fair warning it may happen.
*Value of the prize is debatable. I think it's very valuable having everyone displaying a message of my choice. Others may not. Yes, the prize for this competition is basically just a signature bet.
Example Team:
As mentioned, I have shown an example team below which complies with the rules. There is either one or two players from each of the 18 clubs, and all of the 30 players are priced between $200K and $450K. Ignore the captains and emergencies that are shown - these were entered automatically on the site - the captain will always be your highest scorer for the round, and emergencies do not exist.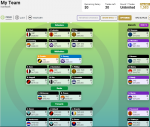 Your team doesn't have to have $0 remaining, I just did this as an additional challenge for this example. This is also not my entry in the competition, it is a sample entry only.
Anyway, if you have any questions, feel free to ask. Entries are now open and will remain open up until the start of the first game of Round 1. Remember to send your entry to me directly, rather than posting it here - any entries posted in this topic are not official. I will provide updates here on the number of entries received every now and then, but will not list people's teams until after Round 1 commences.
Just to let you know, this is quite a difficult task, getting a good team which meets both the budget and 1-2 players per club rules. I recommend that every time you look at including a mid priced player in your main team, instead you look at your entry for this comp and see if they fit better in that instead.
Before anyone mentions it, yes, I know "mid pricer" is not usually exactly this range - $250K-$500K is more commonly used to describe mid-priced players, I just found the price range used for this competition made it easier to fill a full side which would still allow for significant variation in teams.
Good luck!