Hi all,
Having recently played the fantasy competition at the recent 2022 World Championships, and given there is no other fantasy platform that I am aware of, I have decided to run a season long competition for those interested in testing their hand at darts.
So that brings me to the release of the SCS Premier League Darts competition, which will be featuring the biggest darts events on the calendar. The schedule I have devised is as follows:
The first event kicks off Saturday morning 0600hrs AEDT, the Ladbrokes Masters. Below is the tournament bracket and scoring method for the Ladbrokes Masters.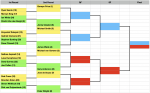 *Note Simon Whitlock is an alternate entry as Danny Noppert has pulled out.
The details around team selection for the Ladbrokes Masters are as follows:
*Player cost is simply PDC Order of Merit earnings. This will be the method used all season long.
*Initial team size is 6 and has a salary cap of 3mil pounds. Team selection must include 2 top 8 players and be filled out by "rest" players.
*Trading period will be announced after the completion of the 2nd round (Sunday morning), and ahead of the final day's action beginning approx Sunday 2245hrs AEDT. Any 4 player team combinations within 3mil pounds salary cap will be accepted.
*Scoring is as follows from the above chart, with 5 bonus points awarded to a participant holding the Masters winner through the entirety of the tournament.
*Captain x2 and VC x1.5 for both rounds of the tournament and all avenues of scoring in the chart, except for the tournament winner bonus points. Changes in C/VC may occur during trading period. Please be clear and concise of choices. Default captaincy will revert to highest and 2nd highest valued players if not stipulated.
*Should there be a withdrawal during a tournament, that is the luck of the draw, and no replacement player or points will be awarded.
*In the event that an entry exceeds value and the entry remains unamended at lockout, the lowest cost player exceeding value will be automatically transferred to the lowest cost player that doesn't exceed value. (eg a team 50K over budget that has selected White as cheapest player has no alternative selection. If Searle is next cheapest player he would be automatically substituted by Dolan who is the cheapest alternative to fit into salary constraints). Within time constraints of lockout, I will PM participant if I notice an over budget entry, but it falls on the participant themselves to calculate the cost of their team before submitting.
LOCKOUTS:
1st/2nd Round Saturday 29th 0600hrs AEDT
QF-Final Sunday 30th 2245hrs AEDT
Entries can be simply posted in the thread or via PM to myself. If a participant chooses to PM their entry it will be disclosed after lockout has closed.
Due to Covid, it would be wise to leave posting an entry until at the earliest Thursday 27th (however an early indication of participation would be encouraged and helpful).
All welcome to join, and I hope to receive your entry. For integrity, I will be sending my entry to
@Connoisseur
by the lockout closure.
I intend to advertise event #2 Cazoo Premier League once the field is set at the conclusion of the Ladbrokes Masters next Monday morning.
Regards,
Andrew