Ok let's try this again.
Details:
- entry is $100 for each person for the life of the club (ie. until we either lose it all or cash it all out)
- if we manage to get 10 of us in, the kitty will be $1000
- from that $1000 kitty we'll bet $100 a week so at a minimum the club will run for 10 weeks.. if we don't manage to win a cent lol
- each round each member puts their tips and margins in and from that we'll bet $50 of the $100 on a bunch of multis using a system Rowsus has devised in his super computer (see posts 2 and 14 of this thread for more info)
- the other $50 of the $100 will be up to an allocated individual to pick something they want to bet on. It can be anything, it's completely up to them. If they prefer not to pick something, we can just double the system bets for potentially twice the payout. Once we get going i'll do a random draw so everyone knows when it's their time to bet.
- i will place the bets on each week via my sportsbet account so you don't need to do any betting yourself and won't need to open an account etc. I'll post screenshots into this thread so everyone knows what we're on and stand to win.
If i've missed anything or if anyone is unsure, yell out. Hope i haven't made it too confusing!
How to enter:
Register your interest in this thread. Only active members and those who are able to pay your $100 straight away.
Confirmed and order of betting.
IDIG - paid
Brettthejet - paid
Rowsus - paid
PC - paid
doc ron - paid
KLo30 - paid
Courtesans - paid
Diabolical - paid
Darkie - paid
THCLT
Beijing_Sting - paid
****************************
SECOND CYCLE ORDER AND CHANGES
As mentioned previously, for this second cycle:
- no group tips/bets each week, individual picks only
- $20 minimum bet, $100 total bet weekly
- all bets to be submitted to me at the
same time
by Thursday 8pm or 24 hours before first bet starts
- win $200 (ie. $100 profit) and you get to bet another week
****************************
THIRD CYCLE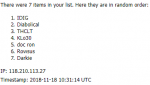 FOURTH CYCLE
Last edited: