As many of you know, each year
@Beg2Differ
runs a Tour de France fantasy competition which attracts a reasonable number of entrants (27 in 2022). I was lucky enough to win this in 2022, and mentioned at the time that it might be interesting to have a year long cycling competition for any of the cycling fans to take part in, or even non-fans who are addicted to joining any competition that they can. This contest I am running will not and is not intended to replace this stand alone Tour de France contest - I'm hoping to be back to defend my title in July! Instead, this will cover all of the major events throughout the year. I had a look at a couple of other online competitions and to be honest, didn't like their format. I personally think this is far superior.
So which events are covered? There are 37 events which will be covered, which sounds a lot of commitment. To ease this, standings will be based on your top 12 event scores in a rolling 12 month period. Different events will be worth a different amount of points, as detailed below:
2023 Calendar of events
: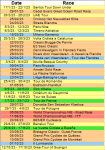 With regards to the colours above:
Green coloured events are Grand Tours. These will have by far the most points associated with them, and it is highly recommended you participate in all of these to be competitive.
Dark pink events are the World Championships. As these are possibly the most sought after titles after the Grand Tours, they are worth the second most amount of points.
Blue events are the Monuments. These five races are the most revered one day races and are worth more than the standard events.
Yellow events are Tours and Tan events are Classics. Tours are basically 5-8 stage events, Classics are single day races. Both of these formats carry the lowest points totals, but due to the amount of races, will still be included in your best events in any 12 month period.
As you can see, this schedule is fairly packed, and some events even overlap. Cyclists do not compete in every event in a year, as most riders specialise in certain types of races, so you will not be picking the same riders in every event. Late February through to April in particular seems to have a lot of events - which is great.
How to enter
:
In each Classic, Monument and Would Championship race, you will be selecting 3 cyclists. For Tours, you will select 4 cyclists. For Grand Tours, you will select 6 cyclists. Each cyclist's results will contribute to your score for the event. The points breakdown for each category of race is shown below:
Tour events:
These are multi stage events. Points will be awarded to the top 10 in each stage, the top 8 overall, and the top 3 in the final overall spinter/mountain classifications (where awarded).
Classic, Monuments and World Championships scoring: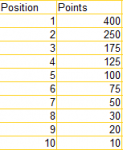 Points shown above are for Classics events. Monuments will be worth DOUBLE the points above. World Championships will be worth TRIPLE the above points. Points will be awarded to the top 10 in each of these single day events.
Grand Tour scoring:
These are multi stage events that contain 21 stages. Points will be awarded to the top 10 in each stage, the top 8 overall, and the top 3 in the final overall spinter/mountain classifications. Plenty of chances for points in these with twice as many riders as in a normal event!
I will stick with these points for 2023, however if I find things are too imbalanced in any way, will adjust for 2024 and onwards. As this is based on a rolling 12 month schedule, the leaderboard at any time after the first year will be based on the last occurrence of each event (pretty much every event on the calendar is held annually). As an example, if an event is held in March this year, then August next year, any points you are defending from that event in 2023 will not expire until it is held again in 2024, they won't expire exactly 12 months later. It'll definitely be clearer as we go!
How to find startlists / other information
:
There are a few good sites that I recommend. Procylingstats (procyclingstats.com) is great for start lists, rider history, stage profiles, past results and event results. I definitely recommend checking this site a day or so before an events begins, as you'll find often start lists are not locked in until not long before a race begins.
For cycling news, cyclingnews.com and sbs.com.au/sport/topic/cycling are two that I like. Cycling News is generally the most up to date site for news (but does have a lot of rubbish to filter through you are probably not interested in). SBS do a great job covering cycling - possibly one of the best covered sports in the country. Their website is possibly more local rider focused, but still should provide ample coverage for most events on the calendar.
There is just over a week until the first race on the calendar, which should allow enough time for anyone to research the event. Being one of two races held in Australia, you will find a lot of the teams will have at least a few local riders, and that a lot of their regular riders (mainly based in Europe and South America) will not be competing. Having a look at the current start list now, it does still seem a reasonable quality field though - there's quite a lot of depth in the local talent here in Australia.
Good luck. Hopefully there's some interest in this, I'll be keeping it going even if I'm the only one who enters, so you may as well keep me company.
Happy to answer any questions you may have. There's a lot to take in, especially for those where cycling is a bit of a foreign sport, but I think you'll find it's quite simple once you digest it all.
Last edited: