BEMER Cyclassics Selections:
BEMER Cyclassics Results: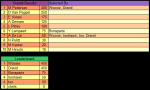 No changes to the overall standings from that event due to the relatively low scores.
My Renewi Tour selections: A De Lie, M Hirschi, J Philipsen, M Mohoric. Subject to all starting - start list is not yet finalised, but I'll be busy the next couple of days and might forget to pick.