I know
@THCLT
is enjoying a break but thought I'd continue this thread theme as I enjoyed it last week.
I'll probably attempt to mirror his observations tomorrow from last week to give him a break (specific player break downs)
- Got the rest of my team updates done so will have the time ..
- My formatting might not be as good though ...
So here is my updated info for this week: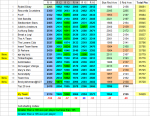 Yep I... know I'm stuffed overall wise but can't see any harm in tracking this type of info ... always willing to observe, take advice and learn ...
Last edited: