Carrying on from last year here is the
Round 3
update of the players owned within the
Top 20
teams ....
Hopefully this may assist some of us as we endeavour to craft our way onwards and upwards for the remainder of the season.
Notes:
- Non-playing players (by team selections)
greyed
out and players that got injuries this round in
red
text for ease of viewing
- Also included is total points and points behind leader for subsequent teams.
- Only 4 teams remained in the top 20 after the completion of this round though ... and listed is the probable trades they made last week ...
- Lastly ... I've attempted to highlight the "selected" ESS / MEL players missing from each team last week ....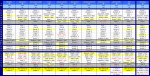 Last edited: