Tom Mitchell has spent more time forward so far this season. Picture: Jonathan DiMaggio/Getty Images
Back to dumping premiums, what's happened to Tom Mitchell?
The Hawthorn gun has spent 19 per cent more time forward and attended less centre bounces so far in 2022. As a result of the increased role across half-forward, his major weapon – prolific ball-winning – has taken a hit, with Mitchell averaging 9 less disposals per game this season.
Waiting for me to say the Hawks need him in there?
Hawthorn was -10 in centre bounce clearances when Mitchell was in attendance against the Blues.
His price fell by almost $60k in Round 3 and, with a breakeven of 176, could fall below $550k next week.
With your premium keepers, price movement is something you shouldn't really worry about, but if this role and trend continues with Mitchell, he's unlikely to bother the top-10 midfielders in KFC SuperCoach.
If you didn't do it last week, I'd take Patrick Cripps and $60k and run.
I have Cripps, what about Tom Green?
I was hoping you didn't ask. I was initially happy watching his first two games – scores of 164 and 106 proved I wasn't crazy last year, just too excited, too early.
But after another 147 points, on the back of 29 disposals, a game-high 16 contested possessions and two goals, I'm not sure I can watch on any longer. I might have to jump on.
Mitchell to Green I would do, if you already have Cripps.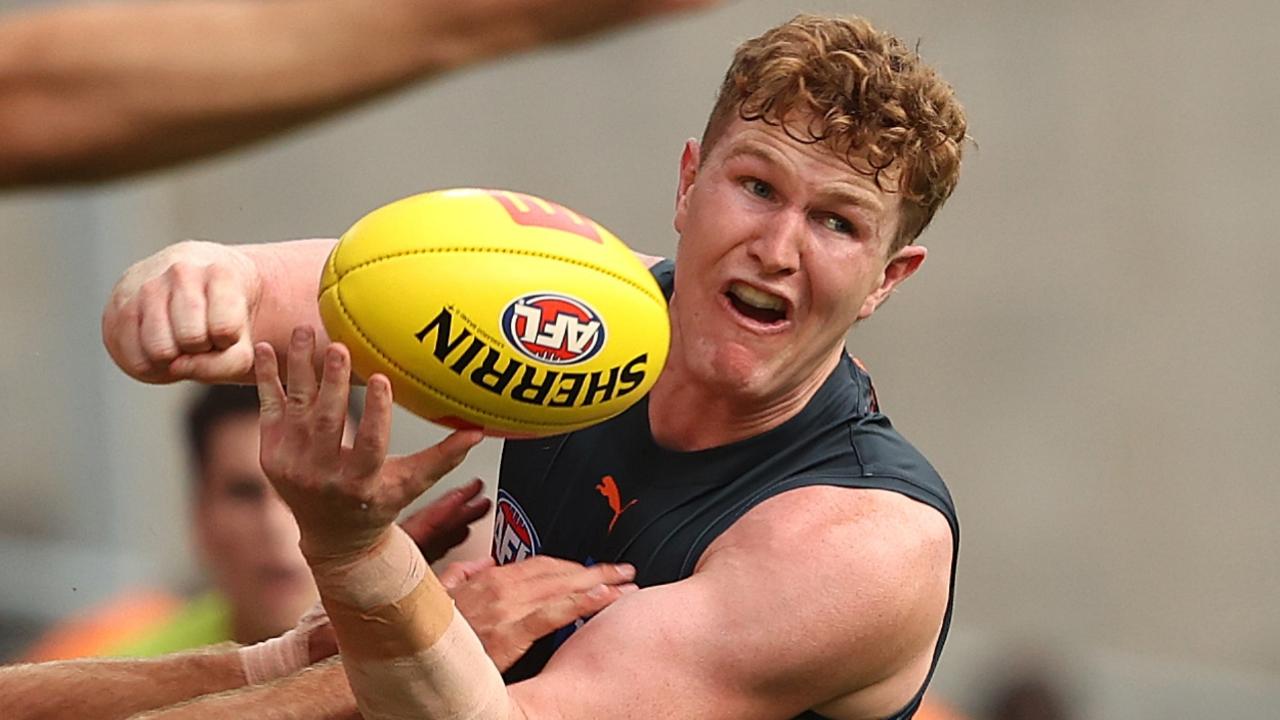 Tom Green is the third-ranked KFC SuperCoach scorer after three rounds. Picture: Phil Hillyard
What about Darcy Parish to Green?
No, I'm asking you.
Which other premiums will fall?
Touk Miller is the one to watch. Despite back-to-back 140s to start the season, the Gold Coast co-captain lost $21k off his price tag, and faces a big Round 4 breakeven of 173, after being tagged by Giant Lachie Ash on the weekend.
KFC SuperCoach Plus tells me even if he scores 132 and 127 in the next two weeks, his price will fall below $620k.
Anything lower, and a sub-$600k Miller could be on the cards. It's true, though, he could go 140 again.
Patrick Dangerfield (Breakeven: 177), Rory Laird (166), Sam Walsh (163) and Mitch Duncan (159) are other big names set for a significant price drop.
But it's not upgrade season just yet.
Is the tagger back?
Giants coach Cameron commended Ash's "selfless" effort to restrict Miller, but he was also helped by resident tagger Matt De Boer.
Ash was the one to stop Bomber Darcy Parish in his tracks late last season, and we all know what De Boer has done to the big KFC SuperCoach names in the past.
GWS play Fremantle and Andy Brayshaw this week, and then Melbourne and Clayton Oliver/Christian Petracca in Round 5.
Just be aware.
Josh Rachele lost 11 KFC SuperCoach points for giving away a late 50-metre penalty. Picture: James Elsby/AFL Photos
Is it time to trade Josh Rachele out?
I just said it wasn't upgrade season, which also means it's not time to chop our rookies.
But after a 36-point score in the Showdown, the young Crow's breakeven has pushed out to 42, and many KFC SuperCoaches are considering their options.
I'll be holding a little longer, though. I was there on Friday night and the 19-year-old was pretty good in the second half, especially when he played higher up the ground. Two first-quarter free kicks against, an out-on-the-full in the second and that last-minute 50-metre penalty, which almost cost Adelaide the game, severely affected his score.
More Coverage
Who will get a new position in KFC SuperCoach?
Trade guide: SuperCoach flops in the gun
NAB League Top 50: Is this the next Clayton Oliver?
I think Rachele, who attended five centre bounces in Round 3, has another 70-point score in him over the next couple of weeks and that will see his cash generation kick in to gear again.
Be content with making no trades this week, friends.
Originally published as
KFC SuperCoach 2022: The Phantom's Round 4 trade advice and burning questions