I understand the fed ex points but give me a 5 point run down on scoring / rules please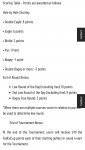 The season will be broken into 4 segments (around 10 tournaments per segment), in each segment you can only choose any golfer 3 times.
You pick 6 golfers, only 4 count towards your score. The other two are on the bench and can be subbed in at any point (usually you bring them in if one of your starting golfers misses the cut). If you pick a player on the bench and do not sub them in at any point in the tournament, this doesn't count as one of your 3 usages for that golfer.
It's pretty straightforward, you'll pick it up quickly. I hadn't watched any golf in years and still did fairly well.